With the related products module for dolibarr v10, simplify your processes and don't forget any product to sell to your customers !
Add several products to your documents in one go (commercial proposition, order, bills).
Step 1 : Define your products associations
Go on your product information sheet, select the tab "related products" and add the products you want to associate to this one.
For each products, you choose :
if it is necessary for a good use, for example an ink cartridge with a printer
the quantity by default (for example you'll need two ties for a curtain tail).
Note : the box "required" means that during the addition in your quote  (or order, or bill), this product will be "pre-selected" to add.
It is always possible to deselect that box and therefore not add the product automatically.
To find the product to associate : input its reference or a part of its tag and then select the product you are looking for. Fill in the "quantity" and "required" (if wanted) and confirm.
Start again for each products you have to associate.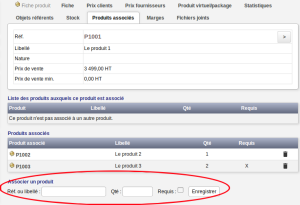 Step 2 : add easily your related products to your Dolibarr documents
On your quote (order, invoice), you add the parent product.
When you click on "add", a window display the complementary products defined in step 1.
For each line, you can set :
The quantity you want
A potential discount
Don't forget to check the "add" box at the end of the line.
Only the products with the box "add" checked will be added to your file.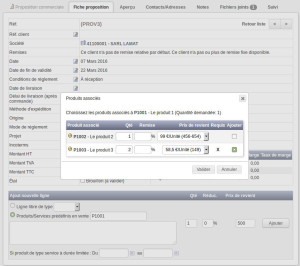 The Related Products Module for Dolibarr allows you to show that a particular product has several options (and which ones), whose some can be required for a good use of the product – but the decision belongs to the file maker.
These related products will then be added line per line to the document, like if you have added them one by one.